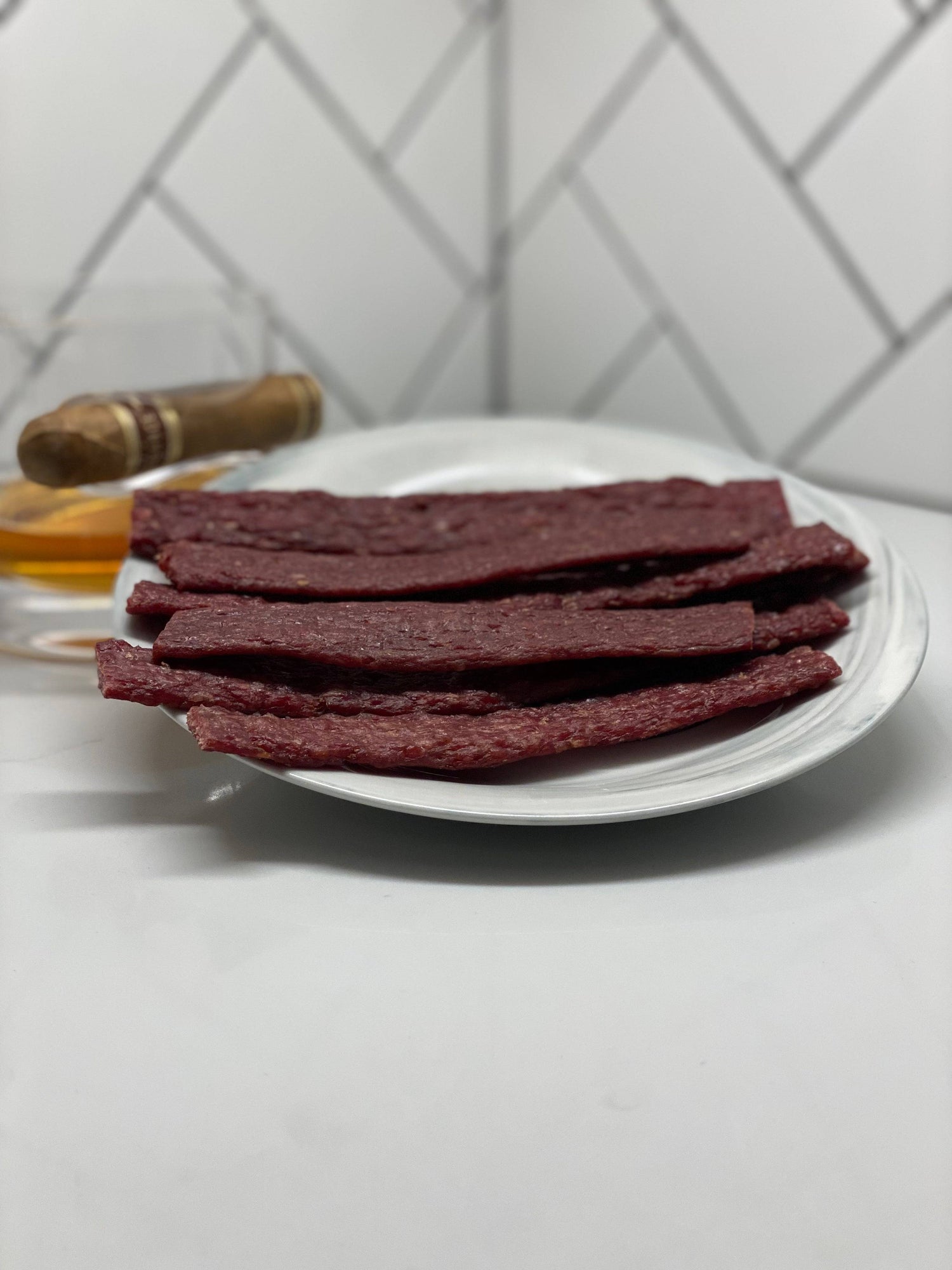 "SG Jerky is 100% committed to quality. From the meat we source, to the care with which it is made by."
See More
Why is Stevie G Jerky so Different?
We've perfected the process known as extruded jerky. We grind our choice cuts of meat and combine it with perfectly curated seasonings and sauces.
SG Jerky offers a flavorful, moist and easy to chew beef jerky stick where you don't have to lose a tooth to enjoy it.
Learn More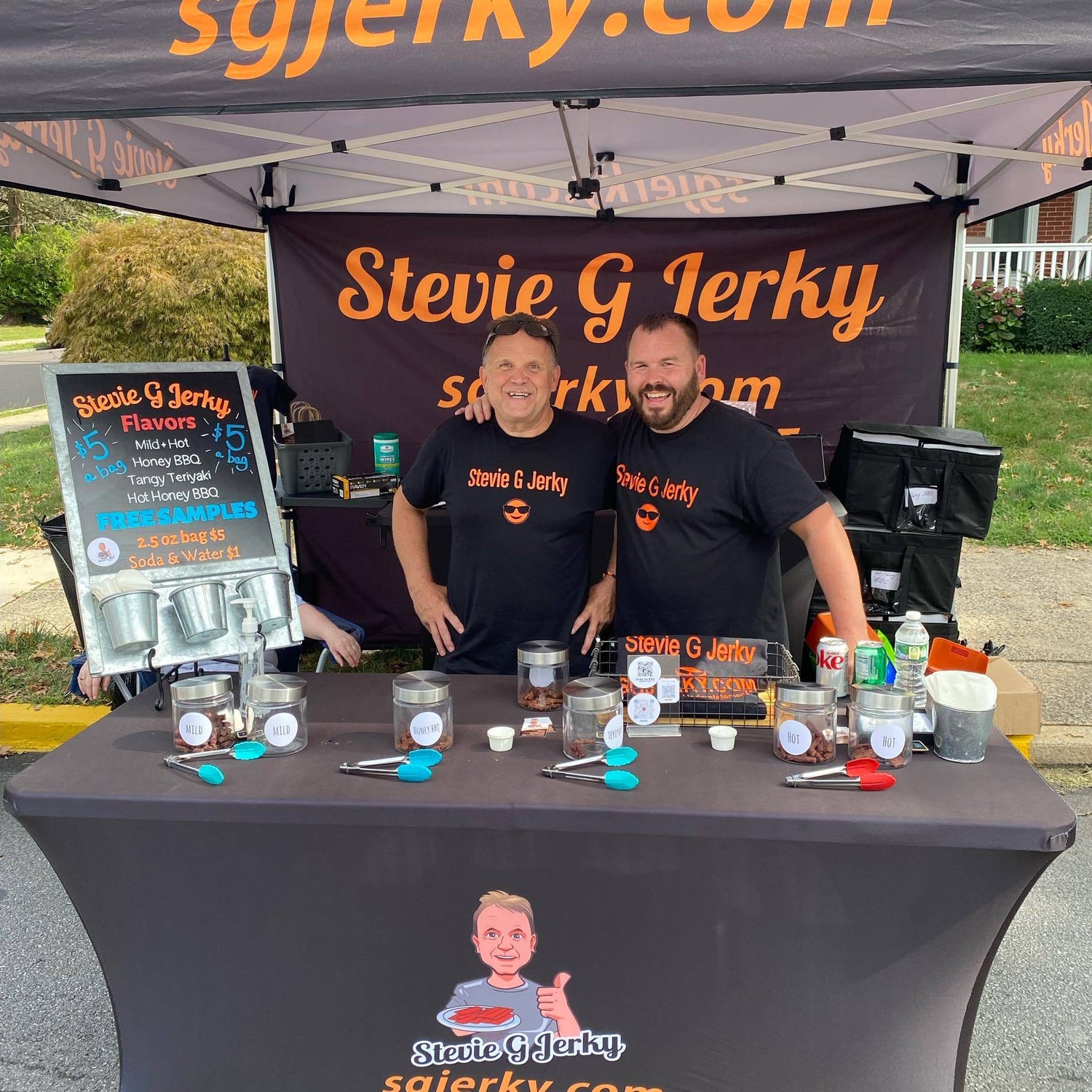 Family Owned and Operated
Monthly Subscriptions

Save on your favorites! We've done the hard work and paired the best, all you have to do is:

Pick your favorites
Choose "Flats or Sticks"

We will keep your pantry stocked with a monthly subscription!

SEE MORE

The OG SG Jerky Bundle

Includes 2 Bags of Each:

Original & Hot Beef Jerky

The Baby Rays BBQ

Includes 2 bags of Each:

Honey BBQ & Hot Honey BBQ
Locally Sourced Products
How We Got Started

Stevie G Jerky was started in a home kitchen in the 1980s. Wanting to have a chewy effect without fear of cracking a tooth, ground extruded jerky was started, using lean quality meat and signature spices, and many trial and error batches. It wasn't until the 1990s, when Stevie G curated the "perfect batch"

We are "Stevie G Jerky", a proud family-owned and operated business, located in Franklinville, NJ. We've decided it's time to release our 30 year family recipe for you to enjoy with us! Using a custom blend of meat cuts, we grind in our signature spices and flavors. We believe in only using quality products, creating an amazingly tender and flavorful extruded jerky stick. At SG Beef Jerky, we currently offer 5 mouth-watering flavors to choose from: Mild, Hot, Hot-Honey BBQ, Honey BBQ and Tangy Teriyaki, with more in the works!  
Gluten Free Flavors Available

Original, Hot, Honey BBQ & Hot Honey BBQ
Monthly Subscriptions Available

There is nothing worse than having a craving for SG Jerky and realizing you forgot to order more!! Have no fear, we make it easy to keep your favorite Stevie G Jerky flavors stocked. Plus you'll save some $$$ by bundling and subscribing.
Want to wear your favorite Jerky gear?

We have shirts and hoodies available in many sizes!

Stevie G Jerky

Email: ryan@sgjerky.com

 
Savory Delights

Craving a mouthwatering, protein-packed snack? Look no further than Stevie G Beef Jerky, your go-to destination for premium, flavor-packed beef jerky. Crafted with utmost care and using only the finest ingredients, Stevie G Beef Jerky offers a tantalizing array of delectable flavors that are sure to satisfy your cravings. In this article, we'll delve into the reasons why Stevie G Beef Jerky is the best choice for beef jerky enthusiasts looking to buy beef jerky near them.

Unparalleled Flavor Variety:

Stevie G Beef Jerky takes pride in offering an impressive range of flavors, ensuring there's something to please every palate. Whether you prefer a traditional smoky flavor or crave something with a spicy kick, Stevie G has got you covered. From Original to Teriyaki, Honey BBQ to Hot & Hot Honey BBQ, their diverse selection of flavors guarantees a jerky experience that's both exciting and satisfying.

Premium Quality Ingredients:

When it comes to beef jerky, quality is paramount, and Stevie G Jerky leaves no room for compromise. Each batch is carefully crafted using 100% premium, lean cuts of beef, ensuring a tender, flavorful, and high-protein snack. Their commitment to quality means you can indulge, knowing you're savoring a product made with the finest ingredients.

Handcrafted with Care:

Stevie G Beef Jerky is meticulously handcrafted in small batches, guaranteeing attention to detail and superior taste. From marinating the beef to slowly drying it to perfection, every step is executed with precision and care. This artisanal approach results in a jerky that's perfectly textured, flavorful, and packed with the mouthwatering essence of each unique flavor.

Gluten-Free* and Preservative-Free:

Stevie G Beef Jerky is proud to offer a product that caters to various dietary preferences and restrictions.  More than 90%* of their jerky variants are gluten-free, making them an excellent choice for those with gluten sensitivities or dietary restrictions. Additionally, their commitment to ensuring an on-the-go snacking option without compromising on taste.

Conveniently Available Near You:

When the craving for beef jerky strikes, finding a reliable and convenient source is essential. Stevie G Jerky understands this and strives to make their mouthwatering treats accessible to customers near and far. With an extensive network of online availability, you can easily message us for local delivery or have it conveniently delivered to your doorstep.

Conclusion:

When it comes to buying beef jerky near you, Stevie G Beef Jerky is the ultimate choice for a premium, flavor-packed snacking experience. Their commitment to quality, handcrafted production, and a diverse range of flavors sets them apart from the competition. By prioritizing natural ingredients and catering to various dietary preferences, Stevie G Beef Jerky has established itself as a top contender in the beef jerky market. So, next time you're craving a savory and satisfying snack, remember to choose Stevie G Beef Jerky for an unparalleled jerky experience right at your fingertips.